Stainless Steel Grease Traps with 10 year warranty

How our unique patented FreshMesh® Stainless Steel Grease Traps work

Waste water containing solids and fats, oils & grease (FOG) can cause severe drainage blockages, bad odours and hygienic issues. The unique stainless steel FreshMesh filtered grease traps are designed to filter out solid waste efficiently, keeping drains cleaner. The system using its internal baffle walls also prevent FOG passing through to the drain line.

Our

UK

made grease traps are designed with the in house operator at the forefront, our SSGT range of traps come complete with double airtight lid seal and quick release catches for easy inspection and cleaning.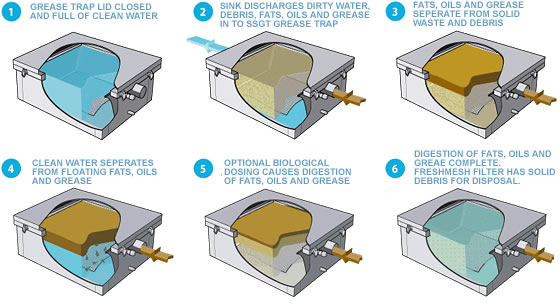 Benefits
Patented design helps maintain water quality to the highest standards.

Single sink or multi-sink applications

Capable of handling dishwasher outflow.

Easy inlet/ outlet connection with height adjustable legs

Requires a minimum of space to install and operate.

Easy to retro-fit, uses standard plumbing fittings.

Internal or external use (above ground) as completely made out of 304 stainless steel.

Built to deliver years of service with 10 year warranty
Features
Incorporates the FreshMesh filtration system for effective solids removal along with high percentage fat, oil and grease capture.

Option of supper fine FreshMesh system for coffee grounds

Height adjustable legs of 167mm for most models.

High quality type 304 stainless steel Construction

Through flow unit, serves any sink/dishwasher volume where recommended installation and cleaning procedures are followed

All seams fully welded

Connection using standard Multi-fit connectors

Quick release watertight lid for simple inspection and cleaning

10 year return to base warranty
Application

Model

Domestic Kitchen / Coffee Machine

Takeaway

Dishwasher

Small Kitchen
10-50 Covers

Medium Kitchen
51-100 Covers

Large Kitchen
101-150 Covers

Extra Large Kitchen
151+ Covers
Diagram Measurement (mm)

Model

A

B

C

D

E

F

G

H

J

K

225

150

150

225

150

120

40

35

35

150

350

330

200

375

350

163-330

50

45

65

200

500

400

200

525

450

163-330

50

45

65

200

500

400

300

525

450

233-400

50/110

45

65

300

500

400

400

525

450

333-500

50/110

45

65

400

750

400

400

775

450

333

110

70

70

400

1000

400

400

1025

450

333

110

70

70

400

1200

400

400

1225

450

333

110

70

70

400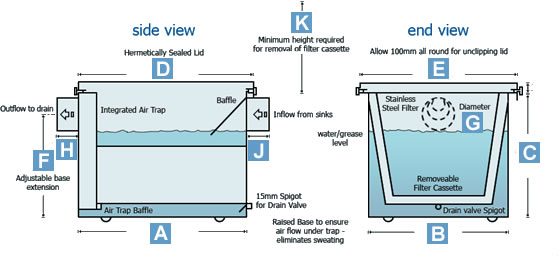 Please click any of the below links to view and download the relevant product literature


(new window will open)