Grease Removal Units
Big Dipper® is considered one of the most effective and leading grease removal units used for the removal of fat, oil and grease from wastewater effluent.These systems earned their reputation and popularity due to the effectiveness in extracting waste products in a variety of applications which have shown great results that are hard to achieve with other systems.The first line of Big Dipper® products became recognisedas leading grease separators due to the qualities and ability to work on different environments. Big Dipper® units are now regarded as the leading automatic grease separator products.
Product innovation

Product reliability and

Customer satisfaction
These three key points are considered to keep the pace with rising demands of the market. If these are not fulfilled then one would fall short of the local water board and environmental regulations.This is one of the reasons for the development of the Big Dipper grease separator in the market today.
What is the Big Dipper?

It's a device specifically built to automatically catch the Fat, Oil & Grease (FOG).This is a removal unit with the sole motive of separating the waste products and grease from the water discharge by the kitchen before entering the maindrainage system.The versatile location of the systems allow for installation in various kitchens and in other commercial establishments to prevent the buildup of greasy substances with pipework.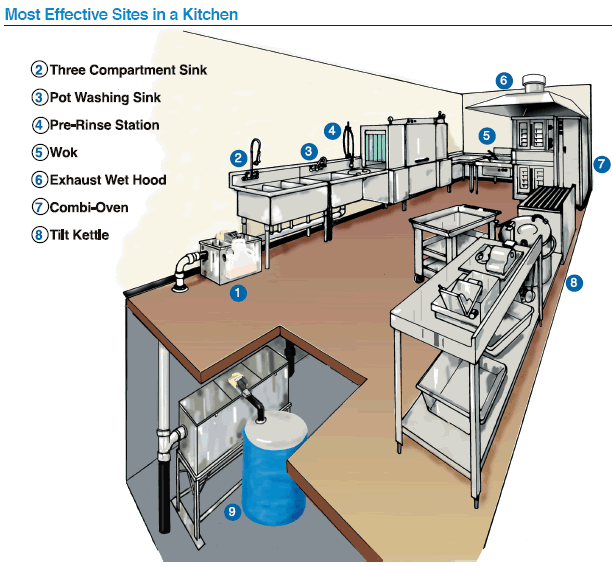 These grease separators have anautomatic self cleaning cycle. Without operator assistance it can remove the collected FOG from the separation tank. This is controlled by a 24-hour timer.

The system is made up of the corrosion resistant materials, suitable for installation in almost any location.

They come integrated with the motor, grease outlet, heater and lid. This makes for fast and easy maintenance along witheasy handing of the unit during installation.

This grease separator is considered to be ergonomically designed with its easy lift and pour collection container.

The compact model is designed according to the need of the users,with a small footprint it does not use up important kitchen space.
Big Dipper Available Options

The Big Dipper system is available in point of source for applications where the unit is to treat a single appliance i.e double bowl sink, combi oven etc and to be located within the kitchen.
The central location units are ideal to treat the all kitchen waste from every appliance at a central plant room.
The Big Dipper range of products also include the in line strainer modules to allow further protection with the capture of incidental solids on problematic sites ranging from solids with a diameter of 3.175mm to 25mm.
For all Big Dipper systems we can supply accessories and replacement spare parts
.
Please select one of the below categories.

The Big Dipper system is made available as point of source applications. These IS units are used to treat single appliances,such as pre rinse sinks, double bowl sinks, combination oven etc, the systems are located within the kitchen.

The central location units which are considered ideal for the treatment of all types of kitchen waste from any kind of appliance at a central plant room.

These grease separator also include the in line strainer modules which allows further protection to catch the incidental solids on challenging sites that range from solids with a diameter of 3mm to 25mm.
For all Big Dipper systems, we can supply accessories and replacement spare parts along with reactive call outs and planned maintenance service agreements.
Point of Source Big Dippers
Central Location Big Dippers AST

Big Dipper point of source units efficiently servce fixtures such as 1 to 3 compartment sink, pre-rinse station, combi ovens or wok stations. Available in a range fo sizes from 1.26 litres per second up to 3.15 litres p/s

Big Dipper central location units can treat kitchen drain flows between

4.73 & 7.89 litres per second , they

are d

esigned to treat flows from multiple fixtures in a central location like a basement or plant room.

Mighty Trap

The Mighty Trap® fully automatic Fat, Oil & Grease (FOG) removal unit is a totally engineered system for the separation and removal of free-floating food sediment and FOGs from all kitchen wastewater outlets.