Aqua Bio-Pro




Drain Treatment System
The Aqua Bio-Pro is an automatic drain maintenance dosing system protecting commercial kitchens from fat oil and grease build-up within the drainage line.
Overview
By use of the programmable dosing pump the system injects at pre-determined times a ready to use, high bacterial specification, multi-strain bio-fluid, specifically for biological treatment of grease traps and drain maintenance.
The Aqua Bio-Pro incorporates the latest biotechnology using an 'environmentally responsible' yet highly effective ready to use product that is based on biological as opposed to chemical action. With a bacteria count of 200 million spores per ml and an effective pH range of 5.0 - 10.0 the Bio-Pro fluid offers drainage protection even in some the harshest environments. Supplied in 10 litre and 20 litre containers.
Installation
The Aqua Bio-Pro drain treatment system can be installed in a variety of locations suitable for a range of applications. Normal configuration would see the system installed to dose the drainage line from the pre-rinse sink as per below image. Alternatively the Aqua Bio-Pro can be connected directly to a grease trap, combi-oven line or inlet of a sump pump lift station. With the units mains or battery operated option, location of the system is not restricted.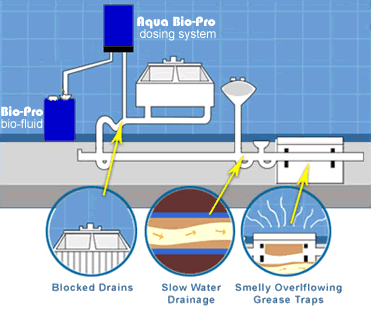 Benefits of the Aqua Bio-Pro
Ensures free running drains

Digestion of fats, oils and grease

Elimination of drain line odours

Environmentally responsible solution using biological as opposed to chemical

Easy Installation

Improved kitchen hygiene the digestion of FOG within the drain lines helps to prevent insect and rodent infestations
Features
Mains or battery options

Automatic programmable dosing unit

Small system sizes allows unrestricted installation locations

Using unique, high bacteria count fluid outperforms single strain enzyme fluids

Full product support and maintenance programmes
Applications
Drainage Lines

Grease traps

Septic Tanks

Pumping Lift Stations

Sewage treatment - to solve problems with fats, oils and greases