Items
1
to
10
of
10
total

About the Grease Shield®
GreaseShield® is a Pro-Active Mechanical Grease Trap operating in real time, taking advantage of waste thermal energy present in effluent being discharged from commercial kitchens to remove emulsified FOGs, particularly saturated animal fats before they solidify.

GreaseShield® removes and dewaters food waste (by means of a Pre Filter or FilterShield® and optional internal Automatic Solids Transfer (AST) system) that is typically found in the effluent from commercial kitchens.

Stage 1: Automated Food Solids Removal
Food solids automatically get screened and dewatered by means of a Pre-Filter (PF) or FilterShield® (FS) and optional internal Automatic Solids Transfer (AST) system.

Stage 2: Automated Grease Separation
Using a combination of retaining baffles, reverse flow configuration and the differing specific gravities of water and FOGs which are complemented by thermal layers within the effluent.

Stage 3: Automated Grease Removal
When the FOGS Container is attached to the GreaseShield®, a silicone rubber blade with anti friction properties makes contact with the slowly rotating drum allowing the FOGs to be removed externally for recycling and safe disposal

Stage 4: Automated Self Cleaning
GreaseShield® reuses and recirculates grey water, agitating the internal tank with intermittent cleaning cycles removing fine sedimentation and back washing internal filters preventing foul smells.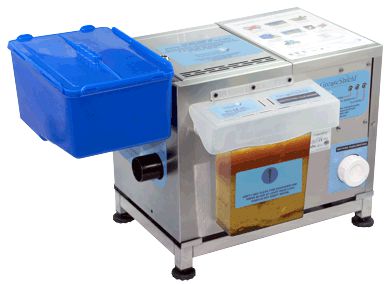 A complete range of Grease Shield units for every application, call our experts in grease management on 01386 832205 for more information or to arrange a free site survey.
| | | | |
| --- | --- | --- | --- |
| GreaseShield®1000 | GreaseShield®1000-LL-F | GreaseShield®1850-LL-PF | GreaseShield®1850-ECO-S-PF |
| GreaseShield®1000-PF | GreaseShield®1850 | GreaseShield®1850-ECO | GreaseShield®1850-ECO-S-F |
| GreaseShield®1000-F | GreaseShield®1850-PF | GreaseShield®1850-ECO-PF | GreaseShield®1850 AST-WOK |
| GreaseShield®1000 AST | GreaseShield®1850-F | GreaseShield®1850-ECO-F | GreaseShield®1850 AST-WOK-PF |
| GreaseShield®1000 AST-PF | GreaseShield®1850 AST | GreaseShield®1850 AST-ECO | |
| GreaseShield®1000 AST-F | GreaseShield®1850 AST-PF | GreaseShield®1850 AST-ECO-PF | |
| GreaseShield®1000-LL | GreaseShield®1850 AST-F | GreaseShield®1850 AST-ECO-F | |
| GreaseShield®1000-LL-PF | GreaseShield®1850-LL | GreaseShield®1850-ECO-S | |