Free-Standing EN 1825 Grease Separators for complete disposal of fats, oils and grease
Key Features and Benefits
Varied options - LipuJet can be supplied in staggered nominal sizes. There are a wide range of sizes and specifications to suit your establishment's requirements
Durability - Rugged construction for longevity
Integrated sludge trap
Versatility – Free standing installation, minimal maintenance and disposal costs
Minimal fuss – Easy to transport and assemble
25-year stability verification
Fully BS EN 1825 certified
How Does the Aqua Mundus LipuJet Work?
The AQUA MUNDUS Lipujet is a range of free-standing grease separators for complete disposal of grease. The LipuJet functions on the basis that water, fats, oils, grease (FOG) and solid particles have different densities. Kitchen wastewater enters the LipuJet grease trap where FOG floats upwards, sludge (solid particles) sinks downwards and the separated, "cleaned" water flows away.
The AQUA MUNDUS LipuJet can be constructed from either polyethylene or stainless steel and is available in either a round or oval design, enabling you a wide range of options to suit your specific requirements. Furthermore, polyethylene is corrosion-resistant but also light; making it easy to transport and install. The AQUA MUNDUS LipuJet benefits from a 25-year warranty on material stability and resistance against greasy wastewater. The warranty is valid providing that the separator is installed, commissioned and maintained according to the manufacturer's instructions. It is also an environmentally friendly material as it can be reused following decommissioning of the separator.
All grease separators require maintenance to remove waste once the separator is full. The LipuJet range of separators need to be emptied completely. To assist the user with determining when the grease separator needs to be emptied all of AQUA MUNDUS's above ground separators have one or two inspection windows to view the grease level. There is also an optional grease level sensor that warns the user that the grease separator needs emptying. The signal from the grease level sensor can be transmitted to a building monitoring system increasing efficiency. Also, in separators using suction for disposal, there is a heating rod available as an accessory to make the FOG (fats, oils and grease) more fluid and easier to dispose of. There are three methods of disposal you can have with a LipuJet. With the basic model, wastewater is removed from the separator using a suction pipe inserted by opening the inspection cover; by using this option odours are able to escape from the separator. With the three other stages disposal is conducted using direct suction via a suction pipe. The suction pipe should be extended to an accessible location for the disposal tanker and fitted with an appropriate connector. By using a sealed connection such as this unpleasant odours are prevented from escaping during emptying. Additionally, in installations where the wastewater has to be transported in excess of 6 metres vertically upwards, an automatically operated disposal pump is required and this is available when the LipuJet stage 2 or 3 are selected.
---
Cleaning the LipuJet Grease Separator
Cleaning the LipuJet is also an essential part of the maintenance process and ensures that the separator runs as efficiently as possible. Cleaning has two functions. Firstly, it cleans the inside wall of the separator and secondly it facilitates the suction of the waste by breaking up and liquifying the grease layer. As with disposal, there are three different methods of cleaning the LipuJet, depending on which model you choose. With the basic model and also stage 1, the separator is cleaned manually through the inspection cover using a water hose. For stage 2, there is a manually operated, high pressure cleaning system inside the separator that can clean the internal walls of the separator without the need to remove the inspection cover, thus preventing the escape of odours. Finally, with the stage 3 LipuJet, the unit is cleaned via a programmable, automated, high pressure cleaning system that removes FOG and sediment from the internal walls of the separator. This cleaning and filling cycle uses a factory setting that can be reprogrammed to suit the customer's requirements. With this automatic cleaning process there is no requirement to remove the inspection cover, this provides the ultimate low-maintenance user friendly option.
---
Filling the LipuJet with Clean Water After Servicing
In the final part of the maintenance process, once the LipuJet has been cleaned, it needs to be filled with fresh water. With the basic model and stages 1 and 2, a manually operated filling device is used, this removes the need to open the inspection cover. For the stage 3 LipuJet, an automated filling device is operated with a solenoid valve, which is implemented from the control panel. Filling becomes part of the cleaning process and is fully automatic.
---
Which LipuJet Grease Separator Unit Do I Need?
The LipuJet has 4 main stages that have a variety of manual or automatic functions. The LipuJet can be supplied in either an oval shape or a round shape depending on your preference Please see below the various types and their descriptions.
Basic Mo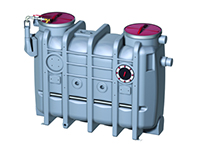 del
Disposal and cleaning via open covers by means of lorry suction hose
Manual cleaning
Disposal of cleaning water
Refill with inlet or hosepipe
Extension 1
Disposal via preinstalled direct suction pipe
Content removal using a disposal lorry suction hose
Manual cleaning of internal tank
Refill with inlet or hosepipe
Extension 2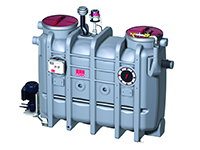 Disposal and cleaning with closed covers (manually)
Content removal via disposal lorry suction hose
Manual fresh water supply for enhanced cleaning effect
High pressure spray head for mixing and shredding of content during disposal
High level of cleaning with less usage of drinking water
Refilling with fresh water using a valve and filling device
Extension 3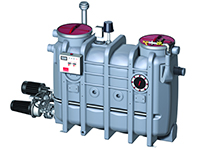 Disposal and cleaning with closed cover (automated version)
Automated high-pressure cleaning and filling device
Content removal via disposal lorry suction hose
Automated activation of high-pressure spray head for mixing and shredding of content during disposal
Automated cleaning of separator via high pressure spray head
Automated refilling with fresh water via filling device and solenoid valve

When selecting the stage 3 model, there is also the option of a remote control that enables disposal, cleaning and refilling without entering the building.
---
Disposal Pump for Use When LipuJet is Located Away from Vacuum Tanker Connection Point
If you choose either the stage 2 or 3 LipuJet model, there is the option of a disposal pump. Whether your establishment requires this pump will depend on the total height below ground that the unit is installed within. The disposal pump has a free flow impeller for safe operation.
If you require a pump you can have the lifting plant Muli Star DDP with one or two pumps depending on your requirements. The Muli Star DDP has a maximum usable volume of 110 – 185 litres. Additionally, an air bubble injection prevents fat sedimentation inside a measuring tube to increase reliability.
---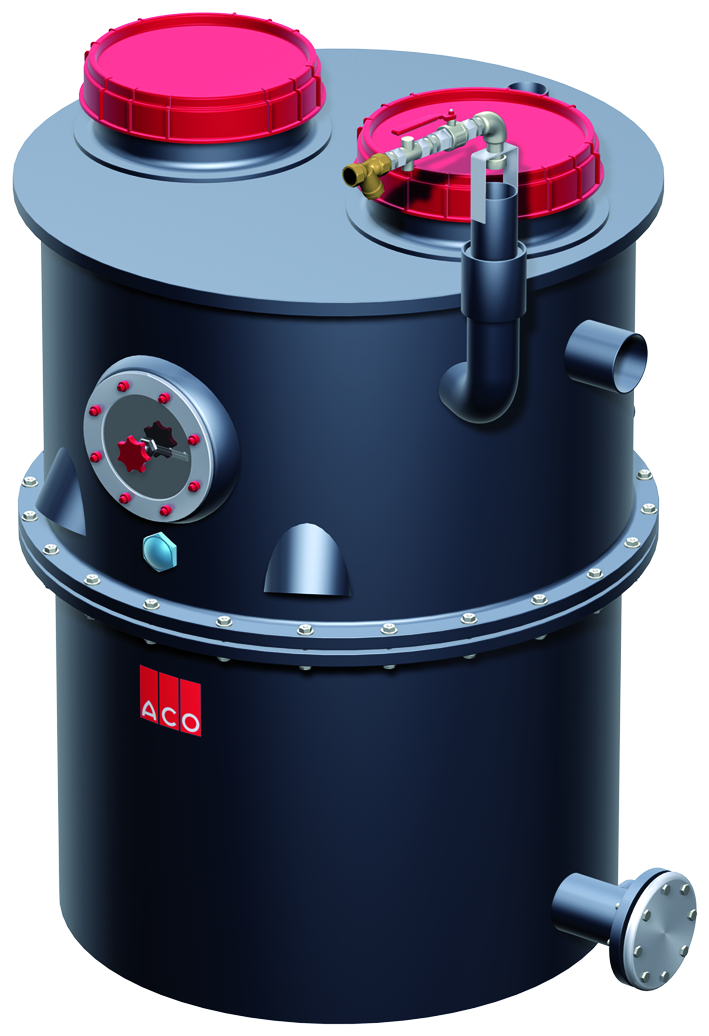 The AQUA MUNDUS LipuJet Round Design is also constructed from polyethylene or stainless steel 316 and is available in the following unit numbers; 2,4,7,10,15 and 20.
There are a number of different units in the LipuJet range that Aqua Mundus can supply and install if required. Our sales team will be happy to assist you when selecting the right AQUA MUNDUS unit for your establishment.
---
Why Should I Choose an Aqua Mundus LipuJet?
The AQUA MUNDUS LipuJet can provide your business with piece of mind when it comes to grease management due to the automatic options that enable you to focus on customer satisfaction. Other grease traps can often demand extra maintenance which can consequently distract staff from their main duties. By choosing a LipuJet you will not require this extra man-power and your workforce can therefore concentrate on their main roles.
Additionally, there are no biological agents or chemicals used in the LipuJet enabling your business to be more environmentally friendly. In the 21st century, the consumer is becoming increasingly aware of the nature and origin of the products they consume and therefore the use of a more ethical method of grease separation and removal can only help to increase the popularity of your business.
The AQUA MUNDUS LipuJet is suitable for installation and use in hotels, business banks, hospitals and other commercial buildings.