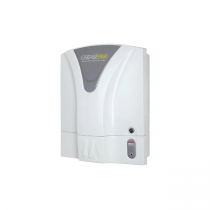 In stock
£
1,010.00
£

1,212.00

(inc VAT)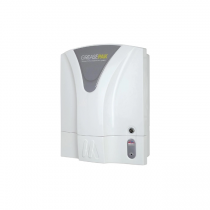 In stock
£
890.00
£

1,068.00

(inc VAT)
Biological Grease Traps
All our biological below ground grease traps work on the same principles: a biological activator is periodically injected into the connecting drainage pipe upstream of the trap.
The mixture of contaminated water and activator flows into the trap and through a sediment bucket. The sediment bucket removes any larger particles that may be present in the drain waste. It is important to note that the sediment bucket volume is limited, therefore any significant amounts of debris should be removed before entering the grease trap.
The physical capacity of the trap provides a separation area where relative density differences allow finer solids to settle to the trap floor and less dense Fat, Oils and Grease (FOGS) to rise to the surface.
Separation occurs relatively quickly, thereby allowing less contaminated water to flow to the outlet drain during periods of intense use.
Floating FOGs are gradually broken down as described in biological activators. The resulting liquid is then discharged to the sewer.
Biological Activators
Unlike strong acid or caustic drain cleaners, our biological activator works safely, but more slowly. They can be used to unblock drains and can be used to replace aggressive caustic and acid cleaners.
Our biological activator works in two distinct ways on the FOG wastes that settle in the drainage pipework and grease trap system:
i) The activator introduces an enzyme that assists the natural biological process of breaking down long molecular chain FOG's into a manageable solution to then be discharged safely into the foul drainage system.
ii) The activator introduces other micro-organisms that actively feed on the FOG's present in the solution.
Biological activators will not digest solid residues from the food preparation process quickly, so the sediment bucket requires periodic removal for cleaning to ensure efficient operation.
Biological Activator Process

Example Calculation of Meals Per Day for Biological Grease Traps
For the convenience of sizing, 1 meal per day = 1 course of food. For example, an hotel providing three meal sittings on a daily basis for its guests – breakfast (1 course), lunch (3 courses) and dinner (3 courses) yields a maximum total number of courses for each guest of 7 'meals per day'. If the hotel has a total number of 40 double rooms, then the maximum number of meals per day that could be produced is given by: 7 x 40 x 2 = 560mpd.
Below Ground BGP Features & Benefits

1) Solid chequer plate cover FACTA Load Class A.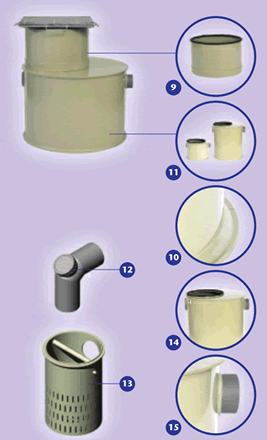 2) Recessed cover FACTA Load Class B.
3) Solid chequer plate cover FACTA Load Class B.
4) Recessed cover FACTA Load Class D.
5) Slotted screw four point locking cover for convenient removal.
6) Sealed system on all covers.
7) Four point lifting key.
8) Robust, fully welded hot dip galvanised finish.
9) 300mm raising piece option easily cut on-site to length.
10) Robust, fully welded lightweight and corrosion resistant polypropylene body.
11) Six sizes up to 15 l/s or 1000 meals per day capacity.
12) Outlet has inbuilt access for jetting or rodding.
13) Lightweight polypropylene sediment basket with handle and location guide for easy maintenance.
14) Offset access point ensures convenient removal of sediment basket.
15) Conventional connections to Ø110mm and Ø160mm pipes with female in, male out on BGP 50-700. The BGP 1000 incorporates Ø200mm male connector.
BGP Technical Details & Dimension
Inlet/Outlet connection mm

A
Body Height

B
Base to Inlet Invert

C
Body Diameter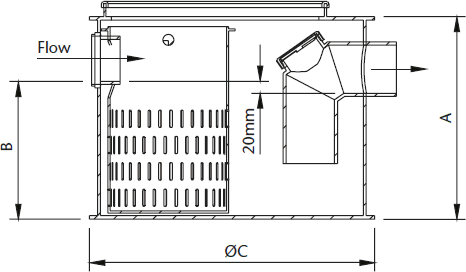 The ECO-FPI below ground separators are currently not available for purchase online,
please phone our technical support team for further details and prices on 01386 832205