Budget Stainless Steel Grease Traps with 5 year warranty
How do grease traps work?
Fats, Oils and Grease are lighter than water and as such float on the surface.

A Typical conventional trap is a rectangular tank with an internal baffle wall, the baffle divides the system into two chambers.

The BSGT also have an internal strainer basket on the inlet to trap solid waste before entering the baffle chamber of the unit.
The BGST grease trap units separates solids first then fat, oil and grease as follows
1) Waste water from the kitchen waste pipes passes into the inlet of the grease trap, this immediately enters the strainer basket and slows the flow down, allowing food waste to be trapped.
2) Once trapped within the baffle wall chamber the fats, oils and grease content floats to the surface.
3) The clean water from the kitchen waste is allowed to pass under the baffle wall and into the main drainage system.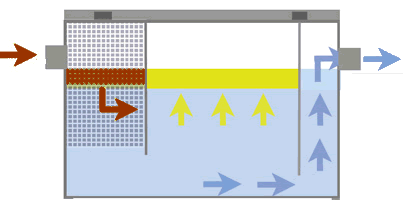 Benefits
Single sink or multi-sink applications

Capable of handling dishwasher outflow.

Easy inlet/ outlet connection with optional rubber couplers

Requires minimal space for installation and user maintenance.

Easy to retro-fit, uses standard plumbing fittings.

Internal or external use (above ground) as made from stainless steel.

Quality built with 5 years warranty
Features
Incorporates a filter basket on the inlet for effective solids removal along with high percentage fat, oil and grease capture.

High quality stainless steel construction

Through flow unit, serves any sink/dishwasher volume where recommended installation and cleaning procedures are followed

All seams fully welded

Connection using standard Multi-fit connectors

Quick release watertight lid for simple inspection and cleaning

5 year return to base warranty
Application

Model

Domestic Kitchen / Coffee Machine

Takeaway

Dishwasher

Small Kitchen
10-50 Covers

Medium Kitchen
51-100 Covers

Large Kitchen
101-150 Covers

Extra Large Kitchen
151+ Covers
Diagram Measurement (mm)

Model

A

B

C

D

E

F

380

270

230

460

180

50

380

380

310

470

220

50

650

450

340

740

260

50

800

500

390

890

300

50