- 1.8 litres per second flow rate
Grease Shield GS1850 (1.8 litres per second flow rate)
Please contact us for a quotation!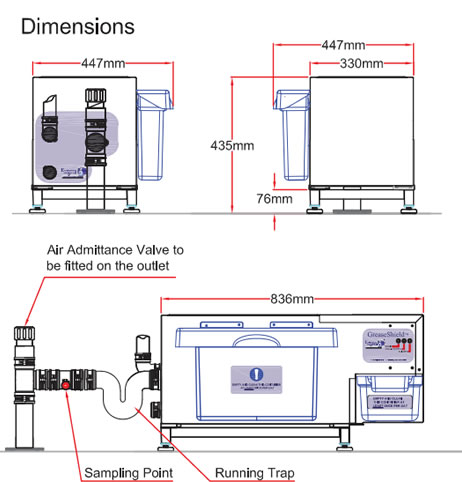 About the Grease Shield GS1850 AST grease trap
The
GreaseShield ®
Grease Trap
is a fully Automatic Grease Separation and Solids Removal
grease trap
providing Automatic Solids Transfer and FOG (fats, oils and grease) removal externally eliminating the need for staff to access the inside of the grease trap
STAGE ONE: FOOD REMOVAL




As effluent enters the

grease trap

food debris is automatically removed by a filter screen. The solids are removed, dewatered by an auger and discharged into a separate collection container for disposal.
STAGE TWO: FOG REMOVAL
5 co-operating baffles and a reverse direction flow force the effluent to travel twice the length of the system. This forces the fats, oils and grease with a lower specific gravity than water into contact with the FOG removal means, running the length of the
grease trap
. Waste thermal energy is utilised to reduce the FOGs whilst they are still running.
STAGE THREE: CONTINUATION OF FOG REMOVAL
Inside the
GreaseShield's ®
separation chamber is a semi submerged slowly rotating roller. Constructed in an oil-repellent material the roller becomes coated in FOGs, as it turns. The roller is scraped clean by a rubber blade having anti friction properties. The FOG contaminants are collected in an external container.
STAGE FOUR: SELF CLEANING
The
GreaseShield ®
has a unique self-cleaning system. There is no need for staff to go inside the GreaseShield. The cycle includes a process to deal with dairy products and eliminate odours
Benefits of the Grease Shield
Removes fat, oil and grease (down to 100ppm)
Removes food waste
Completely odour free
Prevents drain blockages
No staff cleaning - just empty the removed food and grease at the end of each service or day
Automatic Grease Removal
Automatic Food Removal
Automatic cleaning cycle
Multiple inlets
Stainless steel construction
Low power usage
Optional sample point
Extended effluent residence time
Sinks
Rotisseries
Combi ovens
Dishwashers
Wok cooking stations
Contact our office on 01386 832205.