High Capacity Free Standing Fat, Oil and Grease Separators
Both systems are designed to the building regulations BS EN 1825 and constructed of lightweight impact and corrosion resistant polyethylene for easy handling and transport (316 stainless steel available to special order).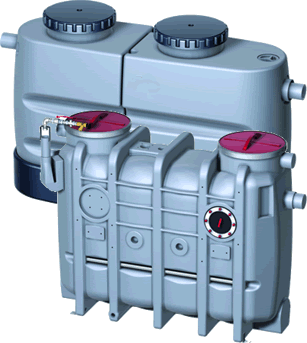 Introducing the ECO-JET and HYDROJET
Applications
· Airports
· Chemical and Pharmaceutical
· Food/Drink Processing
· Hospitals
· Industrial Estate
· Prisons
· Residential Developments
· Schools
· Sport/Leisure
· Domestic
· Railways
Free standing internal installations
With ECO-JET and HYDROJET models, all aspects of access for installation and considerations for maintenance are accommodated.
With ECO-JET, an additional option is available to have the separator splits into smaller components for hard to access sites.
HYDROJET models present sophisticated integrated self cleaning functions.
Concept overview and description of both Eco-Jet & Hydrojet

ECO-JET and HYDROJET free-standing grease separators are each available in Standard and Level 1 formats providing choice and full flexibility of operation with matched degrees of sophistication and automation to suit the application and budget.