March 30, 2020
Aqua Mundus Appointed as UK Service Partner by ACO
Aqua Mundus become UK service partner for ACO.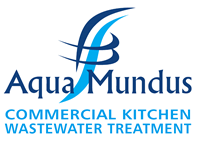 Grease management experts, Aqua Mundus, have been appointed as the grease installation and servicing partner for ACO grease management systems in the UK.

Aqua Mundus has more than seven years' experience of handling the installation and servicing of grease management solutions and is headed up by Kriss Ombler, who has worked in the industry for more than 15 years. Aqua Mundus works with numerous product manufacturers including ACO.

Kriss Ombler, Managing Director of Aqua Mundus, comments: "We're delighted to be chosen as the official servicing and installation partner for ACO. ACO and Aqua Mundus share a strong commitment to providing the best quality products and services to their customers, and we look forward to working with the ACO team going forward and to building upon our already strong working relationship."

Andy Buchan, Divisional Managing Director of ACO Building Drainage, said: "Aqua Mundus were the obvious choice for our business. They not only deliver an excellent customer service but, because they're not aligned with a single manufacturer, they're able to provide customers with impartial expert advice with regard to the installation, commissioning and the ongoing maintenance of grease management products. This, combined with their technical abilities, was a key factor in their appointment."

Aqua Mundus' ability to handle installation, commissioning and servicing requirements on the complete range of ACO grease management products, which includes everything from EN1825 grease separators to small grease traps, was also vitally important.

Aqua Mundus is now working on projects for ACO customers based throughout the UK.

For more information about Aqua Mundus visit www.aquamundus.co.uk