Refurbished Fatstrippa FS125

- 1.25 litres per second. Left to right flow direction.
Fatstrippa FS125 (1.25 litres per second flow rate)
Inlet from left, outlet on right.


Please contact us for a quotation!
This unit was removed from a closed restaurant. The system has been fully deep cleaned, mechanical and electrical tested along with new grease collection container and seals.
The Fatstrippa is in perfect working order and condition.
Comes with 12 months parts warranty.Installation of the unit available, please contact us on 01386 832205.
Pictures of the actual unit at bottom of page.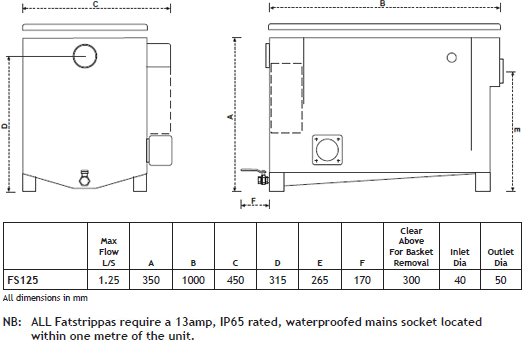 About the Fatstrippa grease trap
Fatstrippa™ is a patented fat, oil and grease recovery trap manufactured in high-grade stainless steel and designed for convenient in-kitchen installation for the continuous separation and removal of fats, oils, grease and food particles from commercial kitchen wastewater.
Quick and easy to fit, in new developments or busy kitchens, We can arrange installation works to suit your requirements and time-frame. Visually checking levels in the self contained oil chamber and emptying the robust entry-point filters, which collect food and other debris, is the basis of a simple 5 minute daily maintenance plan.
The Features


For Fat, Oil and Grease (FOG) removal, Fatstrippa is an effective waste water separation unit available to the catering and food processing industries. Driven by the unrelenting laws of gravity and thermodynamics, Fatstrippa does its job continuously, the outflow of oil appears almost magical. Patented control mechanisms ensure unparalleled separation and removal of FOG (test results have shown well in excess of 98% removal) and these same control mechanisms deliver the collected FOG with a moisture content of less than 0.5%. Fatstrippa is fully compliant with both the letter AND the spirit of The Building Regulations (part H 2.21) which state, "Drainage serving kitchens in commercial hot food premises should be fitted with a grease separator...effective means of grease removal.
The Benefits


• Continuous flow operation: 24/7




• Dishwasher and Combi Oven flows: the only unit capable of FOG capture from all main sources.




• Catches food debris: prevents blockages.




• Fuel from Waste: oil captured in a separate container,




• Complies with Building Regulations: separation of FOG at source.




• Easy Daily maintenance: 5 to 10 minutes max.




• Easy staff training




• Measurable Performance: sampling points on Inlet and Outlet.




• Above ground installation: simple retrofit and movable for deep cleaning or re-planning
We only ever have a limited number of used and refurbished automatic grease traps which are priced at significant discounts over new units, and still with 12 months warranty.
Please contact us today for a supply and/or installation quotation.


Contact our office on 01386 832205.